Aupair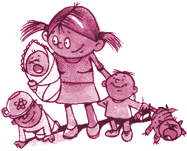 From 2004 to 2005 I worked as an Au Pair in the United States.
I was lucky enough to meet the perfect host family with 4 adorable hostkids. Beth, Paul, Janet and Daniel (who were 7, 5, 3 and 1 years old when I first got there). After visiting the Au Pair school in New York, I lived for 6 month in Chicago, Illinois before I moved with my hostfamily to Jacksonville, Florida.
I've had the time of my life during that year and I'd do it all again in a heartbeat.
If you want to know everything about my year, please don't hesitate to contact me, I sill love to talk about it. Click on "USA Diary" to read all about my year (it's in German though - sorry), click Au Pair Meetings for the latest news on our meetings or visit the "Picture" section for some of my Au Pair pictures.